Governance Committee
---

President  (Term 2022 – 2023)
Esther Oh, MD, PhD
Dr. Esther Oh is an Associate Professor in the Division of Geriatric Medicine and Gerontology (Department of Medicine) at the Johns Hopkins University School of Medicine. She also holds appointments in the Department of Psychiatry and Behavioral Sciences, and in the Division of Neuropathology. She is also the Associate Director of the Johns Hopkins Memory and Alzheimer's Treatment Center.
Dr. Oh's research is primarily focused on Alzheimer's disease and delirium. Her current projects include: development of biomarkers for detecting early stages of Alzheimer's disease; postoperative outcomes after surgery; role of sensory problems (hearing and vestibular function) in Alzheimer's disease.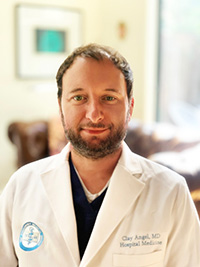 Immediate Past President (Term: 2022-2023)
Clay Angel, MD
Dr. Clay Angel currently serves as the medical site director for Kaiser Permanente's hospital medicine program expansion in Santa Cruz County, CA.
He is board certified in Internal Medicine, Hospital Medicine and Hospice and Palliative Care Medicine and has been with Kaiser Permanente since 2006 after completing his IM residency in Chicago.
In 2009, Dr. Angel started and co-led a multidisciplinary team, based in the medical surgical setting, which has worked to improve, manage and ultimately prevent delirium in fragile elderly inpatients. This work has continued to grow and develop and has led to implementation of a standardized, regional approach to delirium management across Kaiser Permanente Northern California.
His interest in implementation science and national best practices around delirium management in the hospital setting led to continued and increasing involvement in the American Delirium Society, of which he has been a member since 2013.
---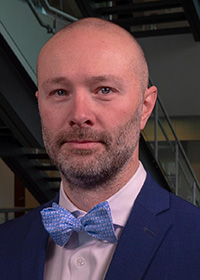 Noll Campbell, PharmD, MS
Purdue University College of Pharmacy Indianapolis, IN
Noll L. Campbell, PharmD, MS is a Research Assistant Professor in the College of Pharmacy at Purdue University. Dr. Campbell received his PharmD degree from Butler University, completed a pharmacy practice residency at St. Vincent Hospital in Indianapolis, then a geriatric pharmacotherapy residency at the University of North Carolina in Chapel Hill, NC. As an investigator with the Indiana University Center for Aging Research and the Regenstrief Institute, Inc., his research focuses on the effect of medications on the aging brain. He is a 2014 recipient of a career development award from the National Institute on Aging to continue his work in recognizing the adverse cognitive effects of medications.
---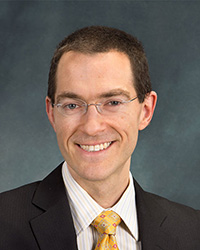 Treasurer
Mark Oldham, MD
Dr. Mark Oldham, MD, is an Assistant Professor of Psychiatry at the University of Rochester Medical Center (URMC) who completed a fellowship in consultation-liaison psychiatry at Yale.
His clinical work has centered on team-based models of proactive psychiatric consultation, and his academic interests lie in understanding the mental health aspects of delirium and delirium neurophysiology. He is currently pursuing a career development award in delirium research to explore the role of sleep disruption and circadian disruption in delirium risk, onset, and long-term outcomes.
---

Secretary
Leanne Boehm, PhD, RN, ACNS-BC, FCCM
Dr. Boehm focuses her research on strategies to improve outcomes for the critically ill. Her primary research interests include exploration of interventions to improve interprofessional protocol implementation, adherence, and fidelity in the acute care setting; implementation of ICU peer support and diary programs with exploration of the associated patient, staff, and organizational outcomes; and exploration of interventions to reduce the burden of Post-Intensive Care Syndrome.
Board Members
---
Christine Waszynski DNP, APRN, GNP-BC, FAAN
Hartford Hospital, Hartford, CT
Christine Marek Waszynski is a geriatric nurse practitioner and the coordinator of inpatient geriatric services at Hartford Hospital in Hartford Connecticut. Dr. Waszynski received her BSN and MSN from The University of Connecticut and her DNP from Sacred Heart University.
Dr. Waszynski has made an impact in the field of delirium prevention, identification, treatment and management. By designing and implementing an interprofessional delirium care model at Hartford Hospital, improved patient outcomes and significant cost savings have been realized. This care model has received national audience by quality and accrediting bodies such as the Institute for Healthcare Improvement and the Joint Commission. As a practitioner, educator, and researcher, Dr. Waszynski has focused her recent work on the development and implementation of non-pharmacological interventions for the prevention of delirium, mediation of delirium symptoms and related negative consequences. Her research has featured the value of family video messaging and multisensory stimulation environments.
---
---
Roberta Esteves Vieira de Castro, MD, MSC, PHD
Roberta Esteves Vieira de Castro is a Brazilian pediatric intensivist, Master of Science in Maternal and Child Health and PhD in Medicine. She works in the Pediatric Intensive Care Unit at the Rio de Janeiro State University. She is a member of the Brazilian Network of Research in Pediatrics from D'Or Institute for Research and Education in Rio de Janeiro, and a columnist in a Brazilian electronic medical portal.  As a researcher, her focus is sedation, analgesia, and delirium in critically ill children. In 2018, she received the Twitter award from Idelirium for the release of World Delirium Awareness Day and was invited by the ADS to coordinate the Latin American Delirium Interest Group.
---
Babar A. Khan MD
Assistant Professor, Indiana University School of Medicine, Indianapolis, IN
Dr. Khan's research is at the critical intersection of acute illness and aging brain. He is a patient oriented-translational/clinical researcher with a principal focus on developing a biomarker profile among delirious patients in the intensive care unit to predict their long term cognitive, physical and psychological morbidity. In addition, he directs the "Critical Care Recovery Center- CCRC", located at Eskenazi Health Services. CCRC is an innovative center balancing research and clinical services that sought to implement the advances in the science of "Post-ICU syndrome" for expeditious recovery and rehabilitation of ICU survivors.
---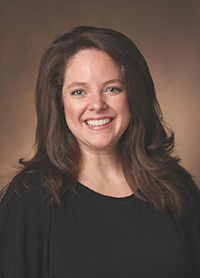 Heidi Smith, MD, MSC, MSCI
Dr. Heidi AB Smith is a Pediatric Anesthesiologist and Intensivist at Vanderbilt University Medical Center who studies ICU Delirium in critically ill infants and children. .
She developed the first highly valid and reliable delirium tool for routine monitoring of ICU delirium in children. She is involved in collaborative efforts through the Society of Critical Care Medicine to improve care of pediatric patients and is serving as Co-Chair of the Pediatric Sedation, Analgesia, and Delirium Guideline Committee and the ICU Liberation Committee. She most recently accepted a position on the Board for the American Delirium Society and looks forward to developing further opportunities for collaboration, education, and sharing of knowledge for the care of children who are at risk or suffer from delirium.
---
Jose Maldonado MD, FAPM
Professor of Psychiatry and Behavioral Sciences (General Psychiatry and Psychology-Adult), Stanford University Medical Center
Dr. Maldonado is an Associate Professor of Psychiatry, and by courtesy of Medicine, Surgery and Emergency Medicine at Stanford University School of Medicine and Associate Professor of Law at Stanford School of Law. He serves as the Chief of the Medical and Forensic Psychiatry Section, and Medical Director of the Psychosomatic Medicine Service. In September 2003 Dr Maldonado joined the faculty of Stanford's Center for Biomedical Ethics and served as co-Chair of the Biomedical Ethics committee at Stanford Medical center, for ten years ending in 2009. Dr. Maldonado is director of the Psychiatry & the Law course at Stanford Law School.
---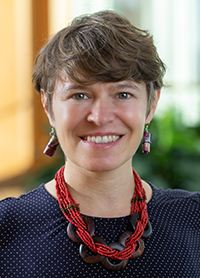 Heidi Lindroth
Dr. Heidi Lindroth is a clinician-nurse scientist and practicing critical care nurse with a vision of a world without delirium. Her passion for improving delirium care stems from witnessing first-hand the terror and lasting detrimental impact of delirium. She received her Ph.D. from University of Wisconsin-Madison and completed a T32-funded postdoctoral fellowship with a graduate certificate in Healthcare Innovation and Implementation Science at Indiana University in the School of Medicine. She is an embedded nurse scientist and agile implementation scientist at Mayo Clinic and splits her time between Rochester and the Northwest Wisconsin Mayo Clinic Health System region. Her focus areas include the identification of underlying vulnerability to delirium, patient- and family-centered solutions to prevent delirium, and the measurement and development of delirium severity phenotypes. Dr. Lindroth joined the American Delirium Society in 2016, co-chairs the research committee and social media initiative, and is thrilled to join the Board of Directors. Follow her on Twitter ~ @minipixie26
---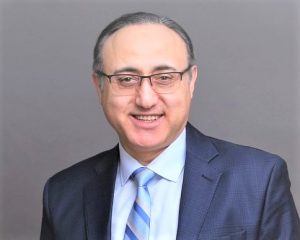 Aaron Pinkhasov, MD, DFAPA, FACLP
Dr. Aaron Pinkhasov completed Combined Residency Program in Internal Medicine and Psychiatry at SUNY-Downstate in Brooklyn, New York in 2000.
He lead the Psychiatry Department at Kingsbrook Jewish Medical Center, from 2001 until 2014, when he became Chair of the Department of Behavioral Health at NYU Winthrop Hospital.
Dr. Pinkhasov is a Clinical Professor of Psychiatry at NYU Langone School of Medicine. He is a Fellow of the American Psychiatric Association, member of the Academy of Consultation and Liaison Psychiatry and the Association of Medicine and Psychiatry.
His areas of expertise includes the impact of integration of medical and mental health on health outcomes and hospital economics.
---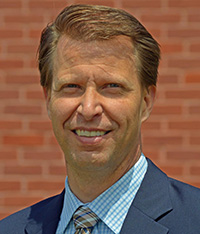 James Rudolph, MD, SM
Director, Center of Innovation in Geriatric Services, Providence VA, Providence, RI, Director, Measurement and Quality Improvement, VA Office of Geriatrics and Extended Care, Washington, DC.
Dr. Rudolph is the Director of the Center of Innovation in Geriatric Services at the Providence VA Medical Center and the Director of Measurement and Quality Improvement for the VA Office of Geriatrics and Extended Care, and a faculty member at the Warren Alpert Medical School at Brown University. He is a clinician, researcher, and educator. His area of expertise is the relationship of functional (cognitive and physical) deficits as a predisposition to negative health events in older persons, particularly those who are hospitalized. He is an active clinician who works with interdisciplinary teams to implement programs to improve patient care with a focus on returning patient's function. Driven by his clinical work, his research assesses on thinking and recovery after hospitalization across the healthcare system.
---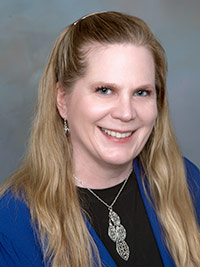 Kerri Maya
Kerri Maya, MSL, RN is the Program Manager for Continuing Interprofessional Development at Sutter Health and a Nurse Educator III at the University of California, Davis. She received her Master's degree in Nursing Science and Healthcare Leadership from the University of California, Davis and is currently completing her PhD there in the same field of study.
As an educator, her focus is primarily on care of complex or critically ill adults and participates in surge training of ICU nurses for crisis response such as during the COVID-19 pandemic. As a researcher, her primary interests include implementation of educational best practices to improve interprofessional teams' competence and performance in the delivery of high-quality delirium care as well as exploration of interventions intended to mitigate delirium-associated distress for survivors and families. She has experience designing and leading an implementation plan to initiate delirium prevention, recognition and intervention standards for a hospital-wide initiative that later progressed to system-wide standards.
Sikander Khan